We glad to present you an exclusive interview with Bellator top lightweight contender Patricky Freire. Friday night he will share the cage with another dangerous fighter Saad Awad at Bellator 141 in Temecula, California. BTW Awad also found some time to speak with one of our authors. It seems that the both fighters are very determine and want to prove a point and send a message to the champion Will Brooks and the rest of the division. Who knows — may be outstanding performance in this fight will give one of the athletes a shot for the title. So we wish Patricky best of luck and want to thank him one more time that he agreed for this interview considering how soon he will fight.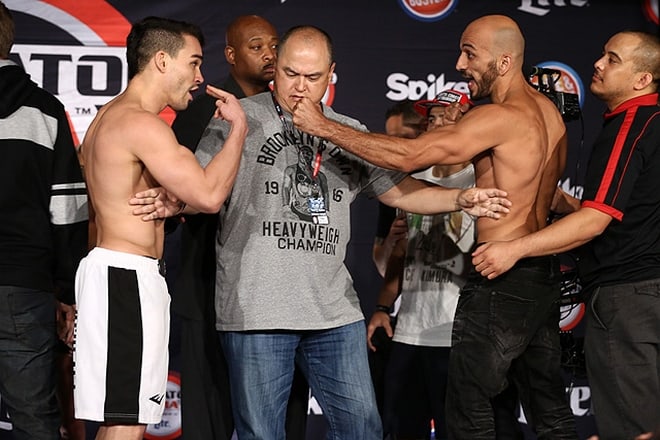 Hi Particky! How are You doing? Lets probably begin from Your next fight. Mr. Saad Awad in his interview to our web-site has expressed his respect to Your ju-jitsu and Your fists! And which of his strong and weak points do You see?
Hi! He's got heavy hands, but his defense isn't as good. He leaves himself open very often.
In Your last fight You have lost to Marcin Held. What conclusions did You make out of it? Did You change anything in Your training process?
I learned I need to focus more on myself instead of being worried about what my opponent is gonna do. I'm more focused, training in a more intelligent way, focusing on improving my game and correcting my mistakes. Also working on getting back some of the aspects that made me a fighter that people feared.
Please name the best and the worst fights of Your career? Please explain us the reason?
The best fight was against David Rickels, because he talked too much, provoked me a lot and got what he deserved. My worst fight was against Marcin Held because I felt like garbage after. I didn't do anything I know, didn't perform anywhere near my capabilities.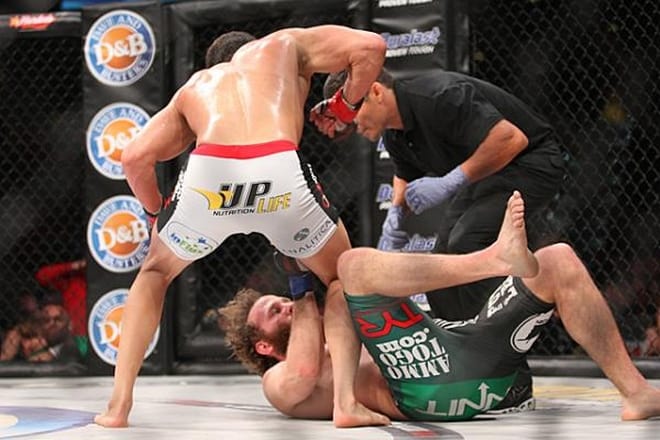 Do You have any superstition? Do You have any traditions of what You should do before the fight?
Sometimes I do, sometimes I don't. This time the superstition I'm having is to shave my beard again, because when I foughht with a beard I lost. Sometimes I remember to get in the cage with my right foot, others I'm so focused I don't even pay attention to that.
Please tell us a little about Your Brother. What does he mean to You? Were You usually mixed up in Your childhood? Who came to the mix martial arts first?
He means a lot to me, he's the person that knows me best as a person and a fighter. He helps me a lot and is a great brother. We used to fight a lot when we were childs between ourselves and also we would always come to each others' support when necessary. Patricio started in MMA first, I had my debut a little bit later.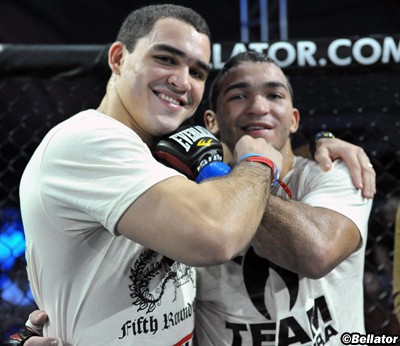 As we know You have quite complicated relationships with the actual champion Mr. Will Brooks. If You meet «outside» (in the street) who would win?
Me. That's not even up to debate. Brooks is a momma's boy, he's a professional fighter, not a real fighter.
Do You remeber how much did You earn for Your first professional fight? What did You do with that money?
I was paid 250 reais, but I don't remember how I spent it (laughs).
What is Your opinion on the UFS — Reebok agreement? Do You think that do to the financial reasons the Fighters would go to Bellator?
I have yet to see a positive result on it. Maybe in the future there'll be, but from what I've seen and heard there's no one satisfied. The guys coming here have freedom to choose their sponsors, so that will certainly have a big impact. We don't live off our purses, we live off our sponsors. That's what keeps us able to pay our bills. If we don't fight we do not get paid, but if we have a good sponsor that is there for us monthly we can pay our bills.
Finally in the end of our interview may be You could say few words to Your Russian fans?
First of all thank you for all the support, I've been in Russia a few times and would love to fight in a Bellator show there. The Russian are great fighting fans and it would be a big honor to showcase my skills in front of you.