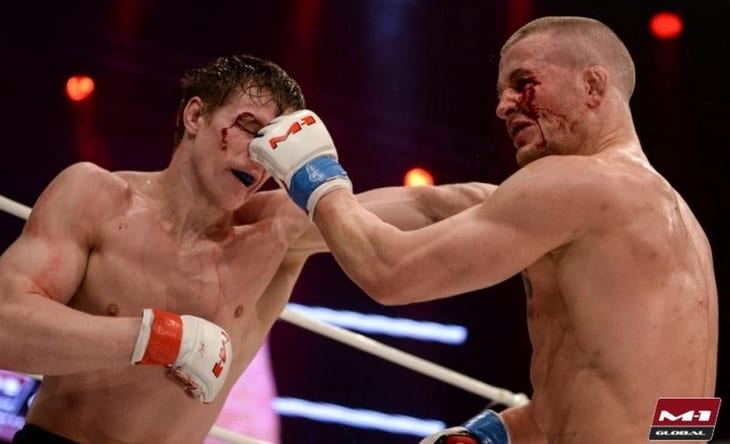 I know recently was confirmed that your next fight will take place at М-1 Challenge 63. Let's talk a little bit about this bout.It's your second fight with Viktor. Please tell us about the first one. Were you satisfied with your performance or despite your win you realized that you done something wrong. If you did please tell us about your mistakes.
The first fight with Viktor was my first fight in M-1 Global and I wasn't a champion so I was an underdog. I came there and unfortunately I lost first two rounds, I was nearly submitted in the first with armbar but I could escape. So I was lucky that I won the next three rounds and I can win by split decision and finally take the belt to Frankfurt.
Will you use the same game plan as in previous fight or we should expect something completely different? Where in your opinion fight gonna take place?
Now it's one and a half years ago since my first time with Victor. And there is a lot of changes in my game, my technical set-up is changed significantly so I think it's gonna be completely different fight this time. I prepared for every aspect of the fight – I can fight in stand up, I can fight in the ground as well. I feel comfortable everywhere.
What do you know about your opponent in general? Do you consider him as a threat? What can you tell about his strengths and weaknesses?
Viktor has a lot of experience, he's a combat sambo world champion I think even two times, has a good fight record, he has a good agility for light heavy weight and endurance as well. I saw his last fight with Maro Perak – the contender fight and I can say that he's improved a lot. So I think we'll see the best Viktor Nemkov in this fight.
Your prediction for the fight.
I don't like to leave it to the judges, everybody knows me – I fight very aggressive and prefer finish the fights so that's the plan – to show everyone that I improved a lot and now I can finish this guy.
MMA in general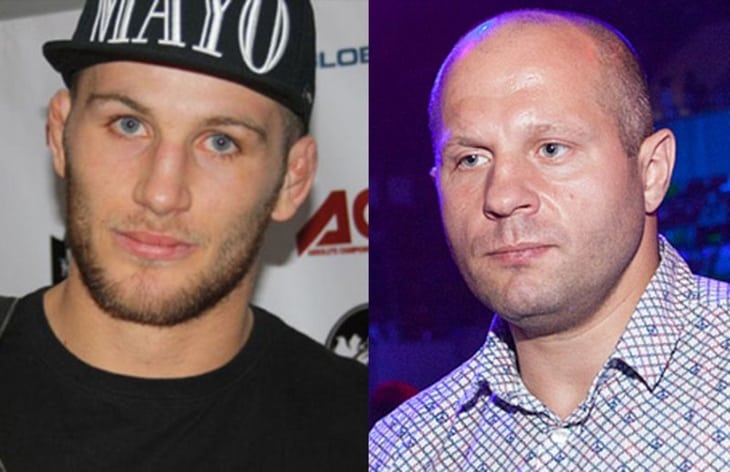 You probably talked about it a several times already but still I can't skip this question. Tell us a little bit about whole Fedor situation. You challenged him. Was it a sincere aspiration or it was more like promotional move?
It happened that way that Vadim gave an interview and he said that if he would be the matchmaker of RIZIN he would do the match up Emelianenko against Putz. And I read this interview and posted it in my social media. The problem with Fedor is that this is not much possibilities for opponents because most of the  best heavy weights fights for UFC and they have an exclusive contract. And this is the reason why I post it. I am a guy who always looking fornew challenges and this  is obviously the biggest one that I can possibly get.
I heard that they still didn't find an opponent for Fedor. Did anybody contact you regarding this matter?
At the moment I don't have any information about that. But who knows. I already have a match up for December so maybe they contact me after my fight.
Which fight in your career you can pick as hardest one?
I think the first fight versus Viktor was the hardest. I did many mistakes in first and second rounds and I didn't listen to my corner as I should do. I can get a much easier win than I did.
Let's talk about you as a fighter. Which style you can name as you primary? Because we always hear that this fighter is a wrestler, another one is a striker and so on. So who is Stefan Putz?
I think that's I am well rounded fighter. I feel comfortable everywhere as I said earlier. I like to fight at the ground, I like to wrestle and I like to strike and I like to grind in the clinch everybody knows that.
Could you please tell as a little about you gym TEAM MMA SPIRIT? There is not much information in Russia about it so can you please briefly tell about coaches, sparring partners and gym in general.
TEAM MMA SPIRIT was founded by Niels Shlaegel. He starts this team as a pro team. There is a lot of good fighters which is very successful at international arena like Daniel Weichel which is fighting in Bellator, Max Coga he is fighting in M-1, Ivan Buchinger he is fighting in M-1 and there is a lot of other guys which is very talented. We have a lot of trainers like Saba Bolaghiwhich. He is fighting as well in local promotion GMC.  He was fighting at M-1 too. He is our wrestling coach. Also we have Mohamed Ouali as our striking coach. We have a very good team and I would say that this gym is one of the best in Europe for sure and in the world too. But in general most of our fighters fight in lighter divisions like bantam weight and light weight.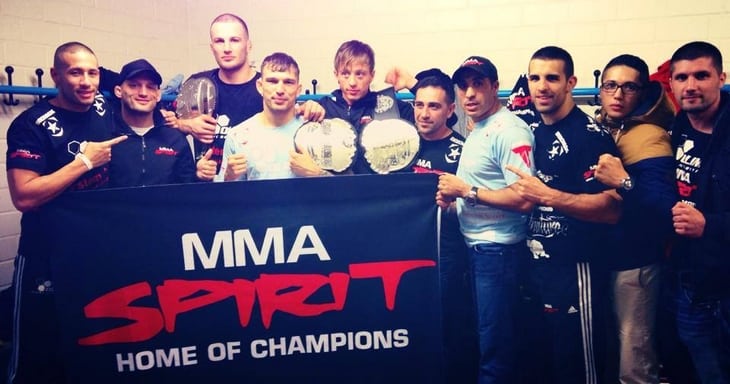 Tell us about your training. How many times a week do you train and how do you split your time between different aspects of the game?
I try to pay the same attention to every aspect of the sport – wrestling, ground game, striking, strength and conditioning. I train two times a day – in the morning more light and technical session and in the evening harder one with fighting aspects like sparring sessions. I am sure that to be a fighter is a 24/7 job because you have to rest properly, you have to stick to your diet and so on. I try always to do it the right way. I even write plans how to do it and this daily routine is very important for me.
Almost every fighter has some favorite moves and techniques – do you have some those?
Basically my favorite discipline is wrestling but I can't name only one move or technique. I am a big fan of this sport and every aspects – basic or complicated interesting for me.
MMA is a fast-growing sport in Europe and there is a lot of talented fighters perform in biggest promotions overseas. Do you know personally some of the Europe stars like for example Gustafson or Mousasi. May be you even have a chance to train with them? What do you think about them?
No. A close friend and sparring partner of mine is Atilla Vegh. He is a good friend of our gym. In general, I do all my camps in TEAM MMA SPIRIT because for me it's the best preparation that I can get and we try to bring different experienced sparring partners to our gym.
Recently we had an interview with Adam Yandiev and he told us that the level of skillset in Russian promotions at least the same as in American organizations or even better. Do you agree with him?
Yes! Sure! I think even if you look at the undercard there are very good fighters with very solid skills. Russian fighters and people who fights in Russian promotions usually very well-rounded fighters and they got it all – not only wrestling or striking. So I am completely agree with him.
By the way since we bring the USA topic- do you think that down there is more opportunities regarding preparation process to the fight? Did you ever have thoughts to move whole or part of your camp in States?
No, never. I am in MMA SPIRIT for two years now and I always had a very good preparation. Everybody taking care of each other. We are real team — like a football team. I know that in the States it doesn't work that way because everybody looking for their benefits. They train together but in fact, they care only about themselves. Daniel and Max are my best friends and we spend a lot of time together outside if the gym and we always help each other.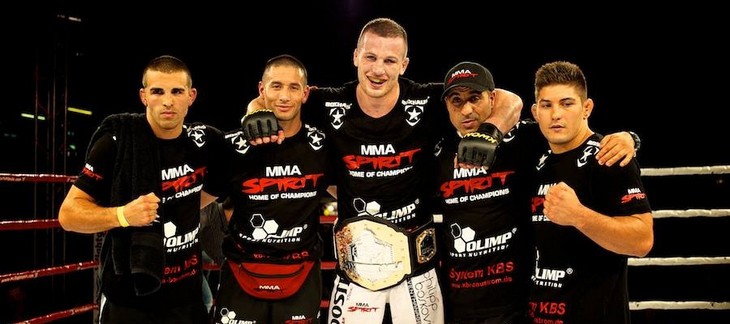 What do you think about trash talking? It seems that this is a big part of modern MMA world. Do you ever think about to try something like that prior your fights in Russia. I think such terminator as you can do it without a doubt.
I think that every fighter should promote his fight. But in general I would say that if somebody will trash talk to me I would never take it personally. I think it's the way to promote a fight that's it. So I don't have a problem with it. But I never consider to do trash talk myself. Before each fight I say that I will win this fight and terminate my opponent because I'm a terminator. I am T-800, you know.
What your general attitude regarding women MMA?
I must say that I like some fighters to watch but I am not interested in women MMA like in men. I totally accept it because everybody should do whatever they like to do. The thing is that technical aspects in women MMA is not the same like in men. And also the level of competition is completely different – it's much easier for talented fighter to climb up the stairs in women MMA. Also I forgot to say that I am a big fan of Cris Cyborg – I like her fighting style very much.
There is a new season of Ultimate Fighter airs in US and one f the teams are Europeans. What do you think about this show? Do you watch it? If hypothetically they offered you to participate in it would you take this offer or not?
I've been watching a first three season of it. Also I watched new season TUF: USA vs Europe couple of times. There were interesting fights but after the German fighters lostI stopped doing that. But I like the concept though – it's a good entertainment especially with McGregor. But it's not an option for me – I won't accept to participate even if they'll offer me. So I am only a fan.
Lifestyle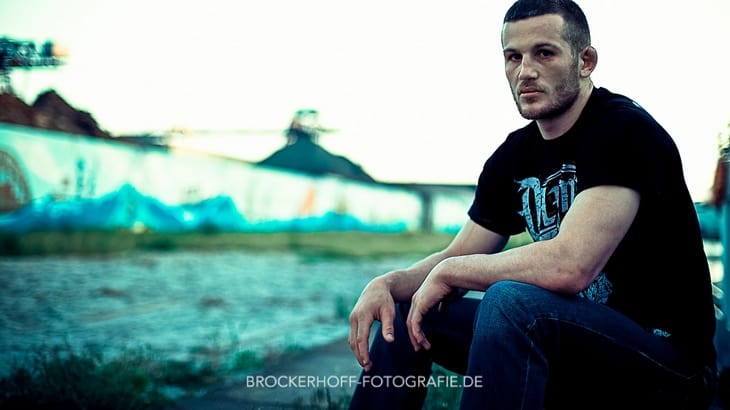 Do you have idols or people that change you significantly? Please name two persons – inside MMA world and outside of it.
I can't name someone from MMA world because I can't say that I completely adore some of the fighters. I like only some aspects of different fighters. But outside of MMA I am a huge fan of Shwarznegger. He came from nowhere and achieved so much. He showed us that you can reach the top no matter what.
I read your previous interview you mentioned that your father is a big sports fan but he still can't accept your life choice. Let's imagine for a minute that you listened him and choose another path. What will it be If you wouldn't become a professional MMA fighter?
My father always said to me that I can do the sport as much as I want but I should never choose it for full-time job. Because if you get injured that your career can be over and it's not easy at all in general. He watched a lot of boxing and as a doctor, he always said that it's very bad for your head. Unfortunately, for him I am a MMA fighter now. He don't like it but he supports me anyway. He always said that you should do whatever that makes you happy but he doesn't agree with that sport – it's too violent. But people who don't know this sport can't see the technical aspect of it. That's the big problem. They think that it's like a dog fight. But if they would go deeper and understand all the techniques, a mindset that you need, a dedication. All that stuff should change their way of thinking. And regarding the second part of the question. I am absolutely sure that I would do something sport related for example nutritionist. I  am working as nutrition specialist even now when I have time for that. I like to help people understand that the sport and the right nutrition and the right lifestyle is very important for them and this is a big part of being successful person.
By the way what will you do if you were in your father shoes? How you will react if your son will want to become a professional fighter?
I will fully support him. Of course I will worried about him so I can give him some advices from my experience and help him with training.
You constantly identify yourself like a Terminator. Where did it come from? Is it some kind of child obsession or what? 
I choose this nickname together with my friend and manager Niels. He said that I am fighting like a robot. Like T-800. I always go for it and my fighting style mean to bring destruction and chaos and this is exactly what T-800 is about.
And in conclusion couple of creative questions. You just need to finish the sentences after me.
If someone ask my friends to describe me in three adjectives, it will be …

disciplined, dedicated and bringing destruction.

MMA for me is… my life.
My main goal in life is…

to make only the right choices.

I cannot imagine my life without those three things…

food, training and my family and friends

If I have 100 000 000$ first of all I would…

build a second terminator.
Please tell couple of words for our readers and Russian fans.
I want to thank all Russian fans. I get so much support after my fights and I am really grateful for that. So I always glad to come in Russia because it's my second home. I think I definetely should get the Russian passport like Roy Jones :).