Our website had an opportunity to talk to a very interesting person. Lubomir Guedjev is currently one of the directors of the biggest Middle Eastern promotion — Abu Dhabi Warriors. He used to be a fighter, a coach and even a referee, so he has plenty of MMA-experience. He told us about fighting in Russia, the problems of developing MMA in UAE and explained why trash talk interferes with MMA as a martial art.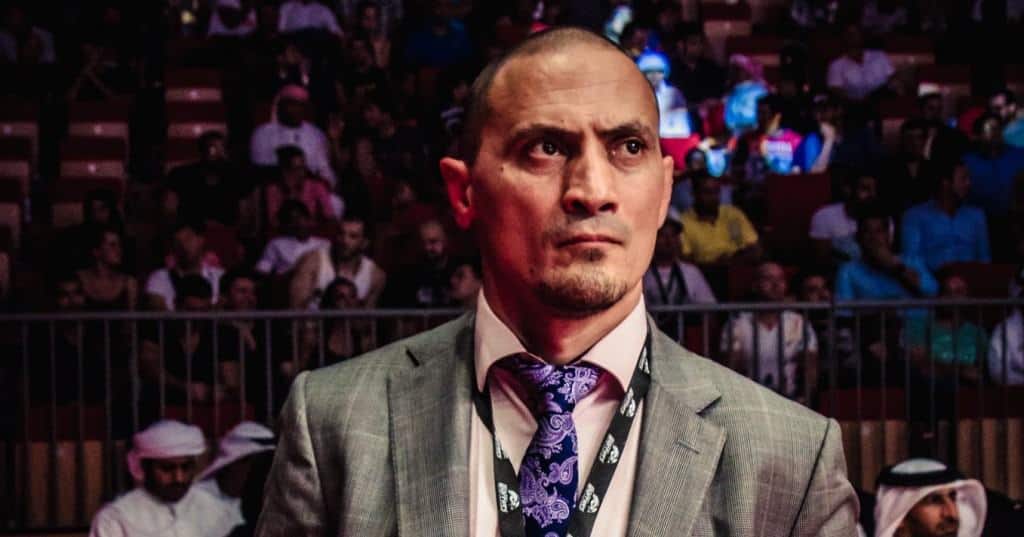 Lubomir, thank you very much for your time. First of all, I'd like to introduce you to Russian MMA fans. Could you tell us about how you got to Abu Dhabi Warriors and your responsibilities at the promotion?
Thank you for the opportunity Ivan. I was involved with several martial arts activities that originated in Abu Dhabi, first as a head referee of the ADCC, then as a Director of the UAEJJ (currently the UAEJJF) and then as a Managing Director of the AD Warriors. Since i moved from Bulgaria and went to live in Abu Dhabi, my life took an interesting direction. After signing up for BJJ training under one of the sons of the President of the UAE, i became a referee, a manager a fighter and eventually was honored to run events under two of the Sheikhs of Abu Dhabi.
As a Managing Director of the ADW i am responsible for the development of this product with the objective to create a sustainable business model that can support the MMA in UAE.
You, as many other MMA managers, have fighting background. According to sherdog.com, you started your professional career about 10 years ago and have 25 fights under your belt. What is your biggest accomplishment as a professional fighter? Would it be correct to call you one of the pioneers in European MMA?
Yes i did fight for several years professionally, and i did enjoy that part of my life. I consider my biggest accomplishment the fact that I never focused fully on fighting, but still managed to have few exiting matches with big names in the industry. I was never knocked out or had any serious injury, and I think that is what I can be happy about it. I also hope that during my fighting career I was able to deliver some emotion to the fans of the sport. To be called one of the pioneers of MMA in Europe will be very inappropriate, as there were many greater and better fighters than myself. I merely tried my best to contribute to the MMA development with everything I could, organizing events, teaching BJJ and fighting to prove its effectiveness.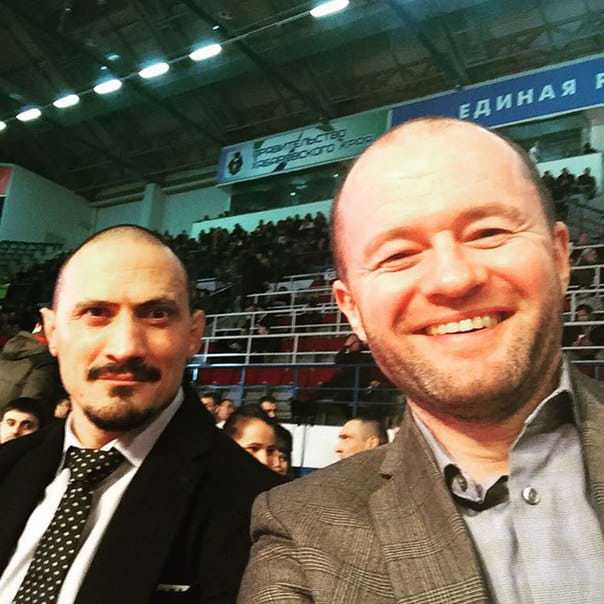 You once competed in "Russia vs. The World" tournament. Was it your first trip to Russia? What were your impressions? In your opinion, how far have the Russian MMA got since then?
Yes that was my first trip to Russia, and I was originally going to be a referee but in the last moment an opponent didn't show up and I took the offer to face Andrey Semenov in the last minute. My impressions at the time being were very positive, the venue was packed, the event was well organized, and the fighters were great. Russia has made an astonishing progress in the MMA industry, it currently has many events of high standards, it delivers great fighters as always and the support for the sport is truly amazing. I have always enjoyed Russian events and was proud to be part of few.
Let's get back to ADW. The second season of Road to Abu Dhabi is starting this week in Bangkok. It will consist of two Grand-prix – in lightweight and middleweight. We have already discussed this event with matchmaker Mr Sokhadze, and now I would like to know your opinion. Can this series of tournaments bring something new to the world of MMA? Who is the biggest star of the season?
The Road to AD series was created in conjunction with Elite Boxing and Mr. Toli Markis, who has designed the model for Muay Thai, but was willing to cooperate with us and offered all his resources, which is something we really value. The idea behind the series is that not only we have chance to have several events oust of Abu Dhabi, which is very entertaining, but we are able to provide a chance for fighters from all over to test their skills and win a place for the big events in Abu Dhabi. We are not able to hold more than 3 or 4 events per year in Abu Dhabi due to costs of the events and the fact that there are no fighters who live and train there yet, so going international was really a logical step.
In terms of fighters, Mr. Sokhadze has the hard task of matching athletes from across the globe in a way that delivers excitement and adds value to the ADW brand, and he is ding great job on that front. I am not very familiar with fighters nowadays due to many other responsibilities, which is why we are lucky to have a professional like Mr. Sokhadze who is an expert in this field and is very familiar with the fighters skills and level of abilities. So our trust is in his hands, and we are confident the fight cards will be something new for the MMA fans.
This year ADW have announced partnership with Chinese promotion Art Of War FC. Could you tell us about this deal? Do you have plans on co-organized events in China?
Yes we have joined forces with AOW, and only recently with Pancrase, MFP and Top FC. Our aim is to collectively contribute to the development of the sport and to work in collaboration rather than competition. By helping each other, the sport industry can only only benefit. Both fighters and promoters can benefit and can deliver greater value for the sponsors which we all need.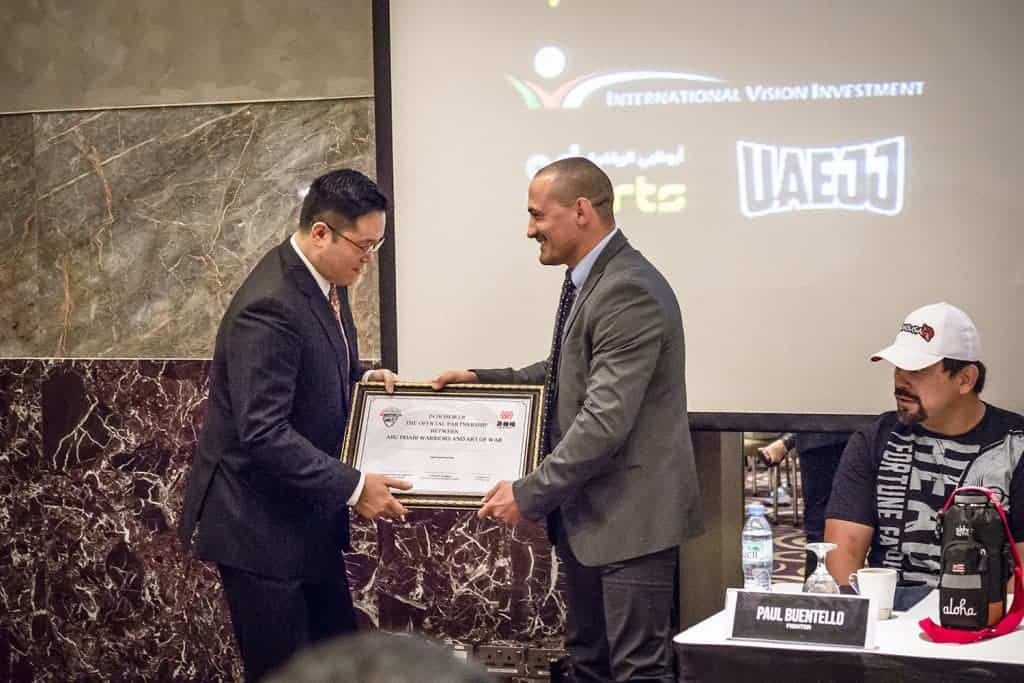 Middle East is a very specific place and region. Trying to promote MMA here, what are the biggest difficulties you face?
So far the biggest difficulties are the lack of fans, the lack of local fighters and the lack of infrastructure for creating fighters and fans. But we are working on it. It is a very specific market we operate in and what we learn is truly valuable. Our plans include infrastructure development, jointly with China, so there might be some interesting news on the horizon.
Do you follow MM as a fan? If you do, what is your opinion on the upcoming McGregor-Diaz rematch? Your prediction?
Unfortunately I do not follow fights at all, it is my weakness as a promoter. However, i am looking forward this fight as from my point of view there is so much attention to it that any outcome will be exiting. Both fighters are displaying great skills, but as behavior i would go with Nick Diaz. He acts like a sportsman and a warrior, has humble character and shows spirit during fights.
By the way, what is your attitude to the aggressive promotion of fights, which the Irish often rely on?
I am a fan of the Asian style of martial arts, the Bushido way. So I am not enjoying the commercial aspect of MMA of today's world, it makes the sport look more and more like a sport and not like an art, and it does kill the spiritual side of it. We should remember that MMA is not like any other sport. It represents war, it is the closest thing to a real fight with possible lethal outcome, so the spirit and the courage required for one to step into the cage or the ring is something that can not be compared to boxing, Jiu-Jitsu, running or any other sport. Therefore it represents life and death, and that it the art behind it. The commercial approach has only diminished this idea.
As the last question: could you say something to Russian MMA fans?
Russian fans are still the most respectful fans of fighting sports. They represent the true spirit of the art and it is nothing less than honor to fight in Russia and being cheered by Russian fans. To them I wish to say — thank you for the support of the fighters and the promoters and I hope what ever I am involved with can somehow make Russian fans exited.